LTS Secure "VSOC" Box 5.0: Empowering the Gen Z cyber security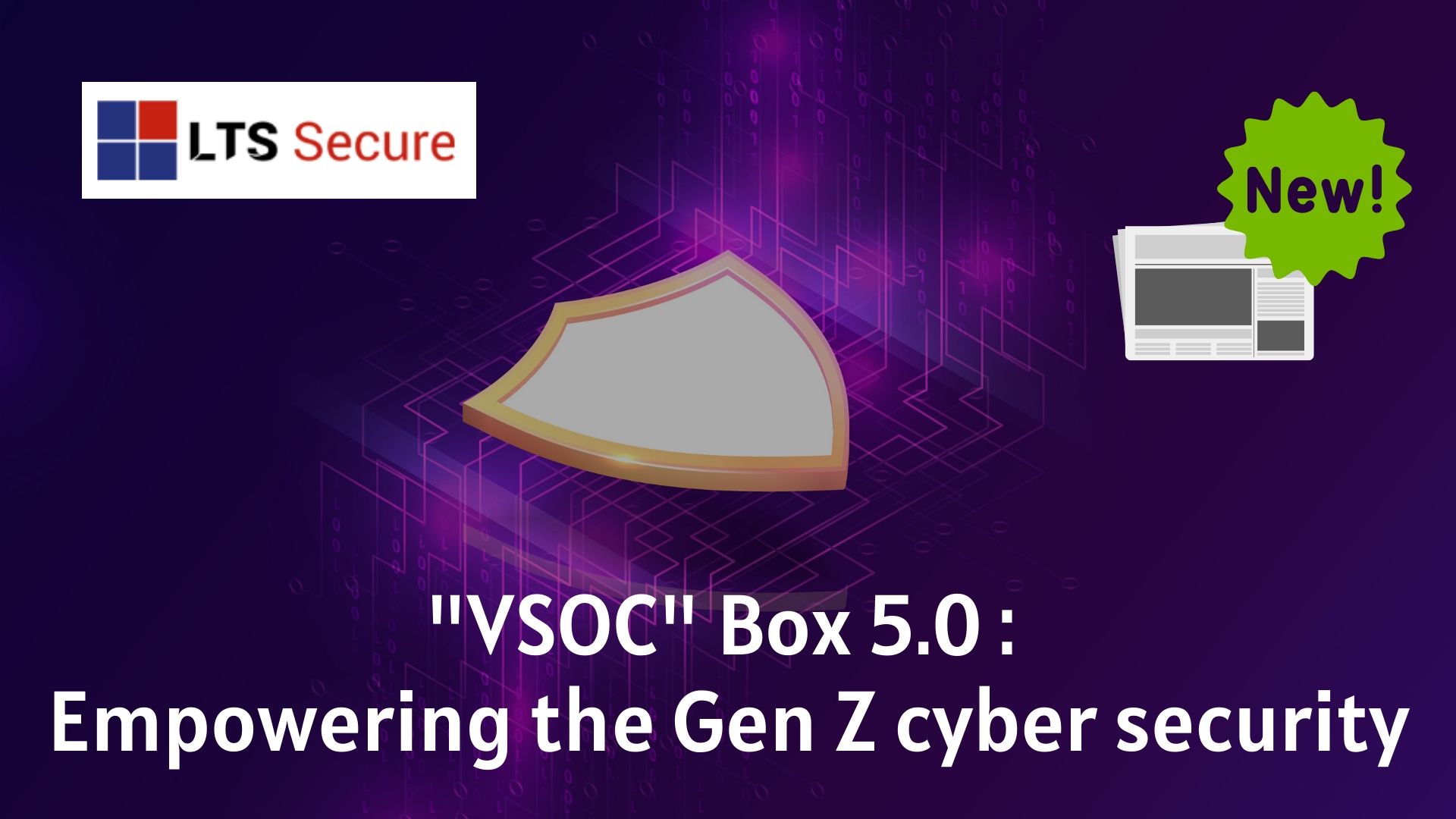 Pune: 31/03/2020
Though times needs though soldiers, we are very proud of our development & testing team who finished LTS Secure VSOC Box 5.0 release battling all difficulties and paved stepping stone of features for latest version of LTS Secure's flagship product V-SOC BOX version 5.0.  The new and improved V-SOC BOX provides stronger multilayer IT security preventing cyber-attacks by proactive monitoring of networks and immediate response to mitigate risks. Enhancing business wide security by proactively monitoring vulnerabilities through multiple IT layers, the improved V-SOC BOX 5.0 provides new features in addition to improved existing features from the earlier version.
Following is non exhaustive list of improved features of V-SOC BOX version 5.0:
Alarm Labelling:
Duplicate alarms are labelled automatically following the defined algorithms of previously traced and labelled alarm with module implementation to open tickets.
Compliance Module and Reporting:
This includes 12 new Compliance modules in LTS Secure non exhaustive compliance library, which can be assigned on the basis of client's need. Compliance mapping matrix report is built up to generate alarm reports against selected compliance data sources.
New compliance module list: Fed RAMP, Australian Privacy Principle, HITRUST CSF, RBI, GDPR, ISO 27018, SAMA, SEBI,HIPPA, PCI DSS, ISO27017, ISO 27001
Other features improved features of Compliance module are:
Simplified process for enabling compliance for regulatory obligations
Collection and mapped key data elements to provide an end-to-end view
Enhanced data management through customized, advanced analytic capabilities
Read Alarms from Email:
Enhanced capability to read alarms through email, now LTS Secure system can read alarms from various sources like email & database, and all alarms can be displayed in visibility modules in the form of dashboards in SIEM and Logger.
Ability to mitigate risks of compromise from highly exploited channel i.e. email
Rapidly adapt to changing threat landscapes and generate alarms
Protects against all advanced threats including phishing, impersonation and spam
Alarm Orchestration:
Auto orchestration feature to perform actions based on different conditions on received alarms to take automatic action without manual intervention and also alerting relevant stakeholders for any suspicious activities.
Automate the process of orchestration and reduce risk of errors
Automate the orchestration to ensure an efficient actions on time
Integrate and bundle various individual tasks into a larger optimized workflow
Threat Intelligence [Malicious URL, IP, Ransomware, OTX sync, APIs]
Threat Intelligence hub system collects, store and manage blocked IPs, malicious URLs from different database. Capabilities include, insert – update & delete feature to keep database with latest updates.
IP Reputation Data:
LTS's secure custom reputation data format for delete module. Customization for insert and update has included in previous version.
AWS and Office 365 plugins:
Advanced plugins for AWS and Office 365 to monitor any suspicious behaviour and threats in SIEM.
Plugin Updates
Updated software component to extracts the data from different applications and devices Enabled in Sensor for reception of data from remote hosts. New plugins upgraded to extract data at advance level and make VSOC Box 5.0 system more intelligent with respect to different event categories
New List: Cloud service, Mail server
Upgraded List: Network Virtualization, Network Switch, Network Firewall, Network Router, DHCP server, Wireless Controller, Antivirus, VPN Server, FTP Server
About LTS Secure:
LTS Secure is an Integrated Security Platform (SIEM + UEBA + CASB + IDM) that enables continuous monitoring & detection of Threats, Vulnerabilities and Risk of IT Network, Applications and by Users in a single pane based on Security Orchestration, Automation and Response.