Deeper visibility into cloud and SaaS with CASB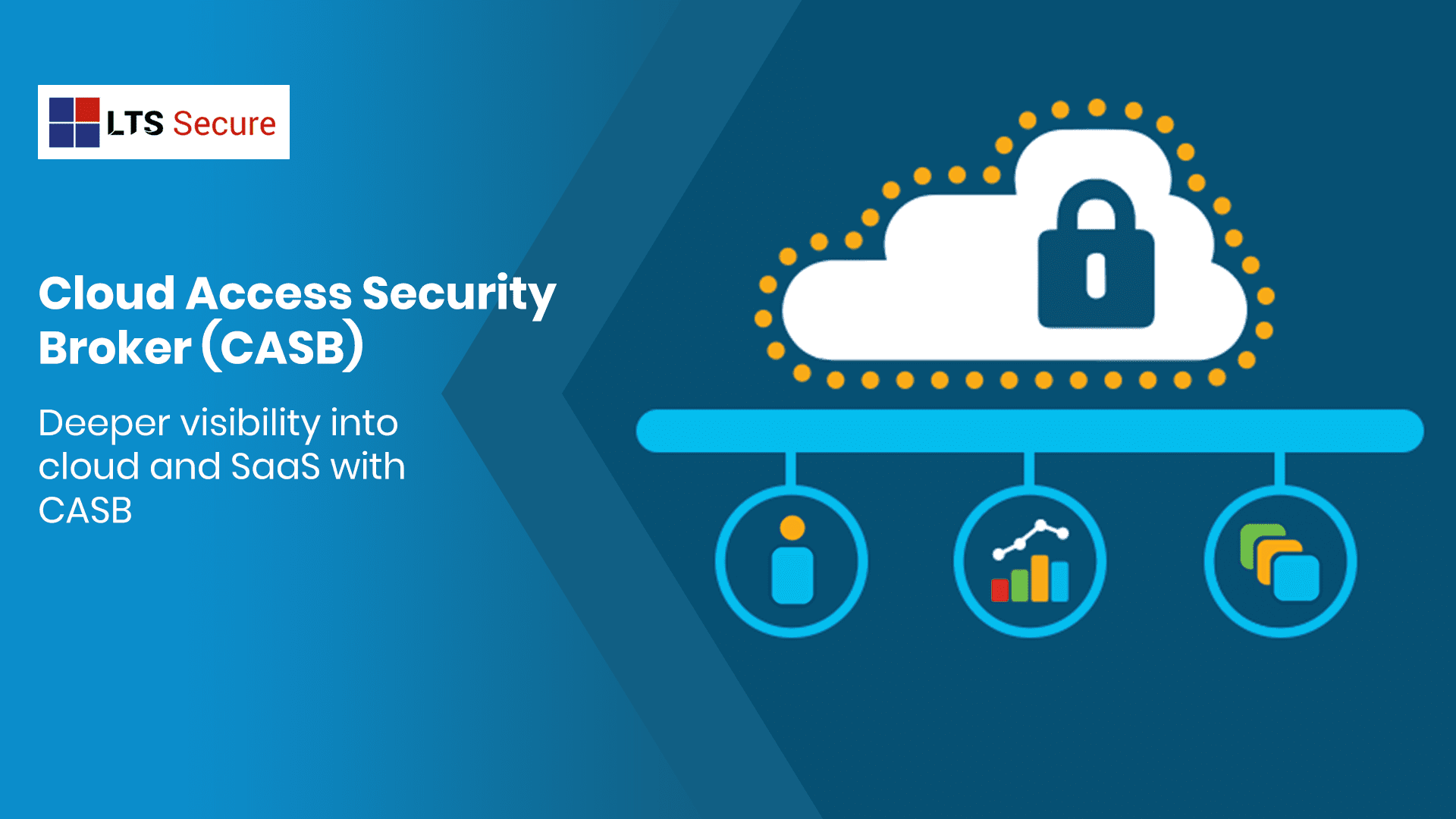 With the wide adoption of cloud computing, organizations are now required to deliver persistent security across multiple clouds, while ensuring the safety of everyone using their data. This requirement gave birth to CASB (Cloud Access Security Broker), with the goal of enabling organizations to gain much better visibility into their cloud environment and SaaS usage.
How does a CASB work?
CASB works by securing all data travelling between our on-prem environment and our cloud environment using organization defined security policies. It ensures that organization systems are protected against cyberattack through malware prevention and makes sure that data security is maintained through encryption.
Cloud services are now used by all kinds of businesses from all industries across the globe because of the business efficiencies, cost benefits and competitive advantage it holds. Recognizing many benefits of cloud computing, many businesses are now implementing cloud computing solutions to run businesses more efficiently, better serve customers and increase overall profit margins. Sending personal and valuable data to a cloud hosted server, cloud applications pose a major risk of cyber-attacks.
Providing cost savings, flexibility and increased collaboration, cloud services are sustainable solutions. Also added to the list of benefits are increased quality control, disaster recovery, loss prevention, auto updates and better insight.
With more data being stored and accessed from the cloud every day, the attack surface within business framework has expanded multiple folds weakening the infrastructure. Most attacks and vulnerabilities cannot be covered by firewalls and antivirus software.
Acting as gatekeeper, CASB allows the organization to extend security services beyond its infrastructure.
Core Pillars of a CASB Solution:
Visibility – CASB allows IT & Security teams to discover shadow IT cloud services running on their cloud environment, while also providing them complete visibility into user activity in sanctioned cloud systems & applications.
Compliance – Allows IT & Security teams to identify sensitive data in the cloud and enforce DLP policies, ensuring compliance with regulations like HIPAA and SOX are been met.
Data Security – BY putting CASB in place, IT & Security teams can easily enforce data-centric security such as encryption, tokenization and access control.
Threat Protection – With its UEBA (User Entity Behaviour Analytics) capabilities, CASB helps detect & respond to privilege user threats, malicious or negligent insider threats, compromised accounts and data exfiltration attempts.
Sample CASB Use Cases:
Adaptive Access Control – Enable access restrictions based on user location, time, device and OS to help comply with data regulation.
Advanced Threat Protection – with integrated threat intelligence and advanced malware detection mechanism, malicious executables are detected & blocked from being stored in cloud applications.
Protecting Sensitive Data – Enforce DLP policies to prevent any sort of cloud application data leak.
Manage Sharing of Critical Files – Prevent exposing critical files containing sensitive data such as financial records, IP, PII, etc., when enabling collaboration with 3rd party.
By using LTS Secure CASB, organizations can:
Discover shadow IT cloud services in use, who are using them, and what security risks to they pose to their organization and their data.
Protect your sensitive data residing in the cloud by preventing it from being uploaded, modified, etc.
Detect potential signs of misuse of cloud services.
Apply distinct levels of access control based on a user's location, device and their OS.
About LTS Secure:
LTS Secure is an Integrated Security Platform (SIEM + UEBA + CASB + IDM) that enables continuous monitoring & detection of Threats, Vulnerabilities and Risk of IT Network, Applications and by Users in a single pane based on Security Orchestration, Automation and Response.