LTS Secure vSOCBox™ MDR Platform
A Unified Platform for Enterprise Cyber Security.
XDR-Detect, Prioritize, & Automate Response to Cyber Threats across Complete Cyber Infrastructure
LTS Secure's vSOCBox'M is an integrated context -aware security protection platform that provides prediction, prevention, detection, and response capabil ties by leveraging adaptive security framework. The intelligence driven vSOCBox™ is a SOC platform for real-time threat detection across cyber infrastructure which includes network, applications, users, and loT devices.
vSOCBox™ Platform - Capabilities
vSOCBox™ Platform - Features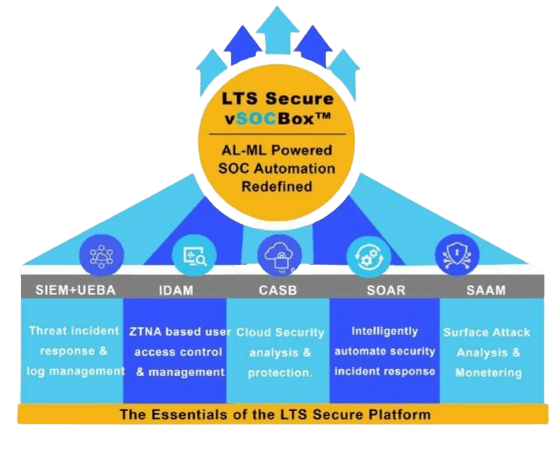 The Essentials of the Platform becomes Modules
The LTS Secure vSOCBox™ platform enables 4 modules­ SIEM+UEBA, CASB & SOAR which can be enabled based on your security roadmap, with no deployment/ integration time.
vSOCBox™, SOC as PaaS (Platform as a Service)
A Subscription-Based Virtual
vSOCBox™ Platform - Benefits
Our vSOCBox™ platform acts as an extension of your in-house IT team to provide 24/7 threat detection and response at a fraction of the cost of equivalent in-house investment.
LTS Secure "Amplify Partner Program" Value
Proposition for Partners
The LTS Secure's SOC Platform as a Service (SOC PaaS) platform, vSOCBox™, will help you to quickly launch your own scalable, automated, and highly cost effective SOC Operations. Leverage one of a kind SOC-platform as-a-Service (SOC PaaS) offering from LTS Secure and take a holistic approach in implementing innovative strategies that will provide a cohesive protection to your customers.
Security Incident Team 24 * 7
Updated Threat Intelligence
The best brands around the world secure with LTS Secure.
What's the new and now from the LTS Secure's Blogs & Articles.
Dig into a wealth of knowledge and insights in our webinars & events.
LTS Secure enables you to quickly investigate the security alerts that matter the most. Ready for Demo?