How Integrating SIEM with SOAR Enhances the Effectiveness of a SOC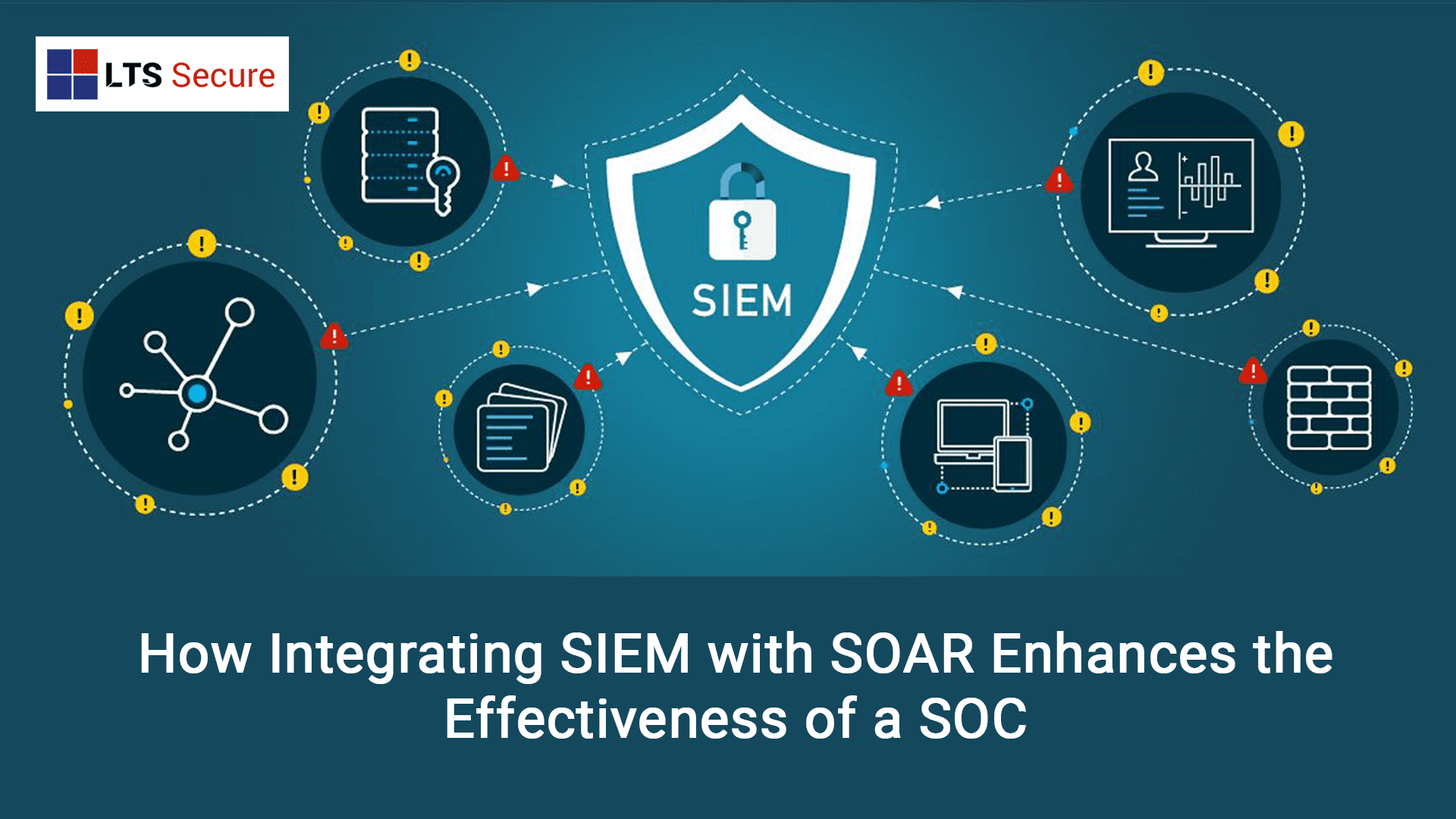 Building a productive & fully functioning SOC is crucial for every organization due to the current threat landscape. Threat actors are becoming more sophisticated by each passing day, leaving almost no trace of familiar patterns in their attacks, forcing SOC teams to use their full potential.
To do so, SOC teams need to bring efficiency into their processes, while also improving their incident response strategies, all of which are getting hampered by the sheer number of security alerts generated by their security solutions like SIEM.
Why do SOC teams need SOAR if they already have a SIEM?
 For SIEMs to differentiate between normal & suspicious, it needs to be periodically upgraded & tuned, which is typically done by engineers & analysts. However, responding to a plethora of alerts triggered by a computer security still remains a manual process. For every alert generated, analysts need to review & investigate it, determining if the alert is a false positive or an actual incident that requires further investigation & remediation, which again is a manual process.
While most Security information and event management possess a wide range of capabilities, they were not created to unify technologies, processes & people within a SOC. This is exactly where a SOAR solution comes into play.
While SIEM takes care of detecting potential security incidents & generates alerts for them, SOAR takes these alerts to the next level by triaging data, responding to them & taking remediation steps where deemed necessary, thus adding significant value to the existing SIEM solution being used.
LTS Secure SOAR
LTS Secure SOAR is a perfect solution for organizations that want to streamline their security operations while increasing the overall efficiency of their SOC. The solution does this by centralizing & triaging alerts from various security solutions, automating threat analysis and repetitive tasks, saving valuable time & resources of SOC teams.
With numerous out-of-the-box connectors and easy-to-configure playbooks, LTS Secure security solution can easily be integrated with all major security solutions, providing a single centralized point of visibility with advanced case management capabilities, asset correlation view and automated response for security incidents.
Key Benefits of Using SOAR in a SOC 
Automation: By automating mundane & repetitive tasks, SOAR allows SOC teams to focus on tasks that require their
Faster Response Time: ML Engine of SOAR enables it to identify false positives & appropriately respond to low-risk security alerts without the need for any human intervention.
Reduced Manual Operations: End-to-End incident response helps overcome alert fatigue by automatically detecting & responding to known security threats with automated workflows.
Improved Threat Hunting: ML Engine learns from past security incidents, enabling SOAR to evolve at the same pace as security threats, allowing SOC teams to handle threats more
Comprehensive Integration: Supporting multiple integrations and APIs, SOAR allows multiple security products to communicate and work synchronously, increasing flexibility of organizational infrastructure using languages like Python, APIs and
Enhanced Threat Intelligence: Provides actionable information for incident response teams by having the ability to ingest threat intelligence feeds & correlate it with security events in real
Dashboards & Reports: Allows SOC teams, CISO's & auditors to properly visualize & analyse relevant data, measure success & access potential business
About the Author
Diraj – Security Analyst
Diraj is a Security Analyst who has designed custom solutions for various use cases based on client requirements from different industries helping them gain better visibility.
Media Contact
Email id: enquiry@ltssecure.com Phone no: 407-965-5509