LTS Secure forms a partnership with the leading IT solutions company, Thumos Tech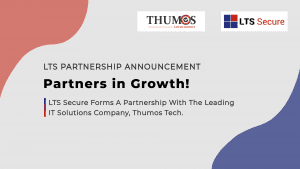 Partnership with Thumos Tech
A leading enterprise cyber security solutions company LTS Secure has announced today to form a partnership with Thumos Tech, a leading IT solutions company headquartered in Mumbai and having a branch in Dubai to increase its global reach. The partnership enables both companies to access to more sales channels.
January 20, 2021, Pune, India LTS Secure and Thumos Tech team up to procure their customers, a competitive edge in the age of digital metamorphosis with the next-generation solution that orchestrates business continuity with actionable threat intelligence.
This partnership of LTS Secure & Thumos Tech will benefit enterprise customers through different advanced security solutions along with SOC as a service which will enable customers with round the clock monitoring at all layers of the IT stack along with context-aware security intelligence to ensure that all of the users, regardless of their location, have to be authenticated, authorized, and continuously validated against defined security configuration before they are granted access to applications and data.
Well-established industries are using Thumos professional services for Solution design, Solution Architect, and Implementation. They provide security business solutions with the latest technology, aid in cloud migration by the process of moving data, applications, or other business elements to a cloud computing environment; promote the use of a computer to model and/or explicate intelligent behavior and therefore, employ artificial intelligence; provide automated application security that helps developers eliminate vulnerabilities and build secure software.
LTS Secure excels in providing essential security programs comprising of end-to-end threat detection and remediation solutions for businesses of varied sizes. And, LTS Secure's Partnership Program is designed to integrate into the partner's business model to provide unique and differentiated service with managed security services to their service portfolio. The most critical component of serving cyber security solutions to clients globally is to build long-lasting and fruitful partnerships to deliver positive business outcomes. LTS Secure's expertise to protect businesses comes from years of experience and innovative thinking.
Interact with LTS Secure:
Visit our website: www.ltssecure.com
Check out our monthly webinar series: https://ltssecure.com/upcoming-webinar/
Connect with us on LinkedIn: https://www.linkedin.com/company/LTS Secure
Follow us on Twitter: https://twitter.com/LtsSecure
Request for LIVE demo: https://ltssecure.com/requestdemo/
ABOUT LTS Secure
LTS Secure is an Enterprise Cyber Security Solution Company powered by AI & ML. It Serves to Detect, Analyze, & Automate response to all Cyber Threats & Advance attacks over network, cloud, user, data, & applications. LTS Secure is having with global expertise to implement an effective cybersecurity strategy to protect your business and a globally acclaimed comprehensive cybersecurity portfolio to enable Future-Ready security digital transformation.
LTS Secure is operational in 6 countries across the USA, UK, Dubai, Saudi Arabia, India, & Singapore. For additional information, visit www.ltssecure.com