Top 5 Things to Consider When We must Require Analytics-Driven SIEM
Top 5 Things to Consider When Replacing Traditional SIEM Security
Identifying new security information and event management (SIEM) capabilities supports your organization's business and security goals and successfully plans, designs, and deploys new, integrated, analytics-driven SIEM tools that meet your requirements. It is important. know more What is SIEM Security and Why it is Important.
Suppose you're considering replacing traditional security information and event management (SIEM) technology. In that case, you might say: Ensuring that SIEM security is doing its job is more important than ever, and the potential for the latest SIEM is more significant than ever. Since the introduction of SIEM technology on the market, the underlying technology has grown significantly. If you're running a traditional SIEM, you can't expect to withstand the frequency and sophistication of today's cyber-attacks, mainly due to the rapid pace of digital transformation and migration to the cloud.
When ready to replace your old CIM, consider new features important to your organization's business and security goals. You need to plan and design for a successful transition to analytics-driven Security tools, given the resources you need and the potential challenges your organization faces to get up and to run and troubleshoot. If you are considering and planning to replace your old CIM, here are the top five things to consider when replacing your old CIM:
1. Business driver
2. Required skills
3. People and processes
4. Planning and design: How to achieve it
5. Mission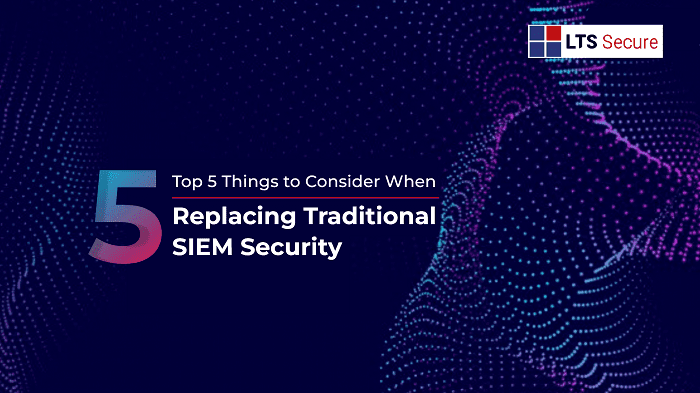 Business Driver –
Data security driven by digital transformation and migration to the cloud will be a top priority for businesses, and next-generation computer security solutions and technology will help. Data security driven by digital transformation and migration to the cloud will be a top priority for businesses, and next-generation SIEM technology will allow it. More and more companies are moving to the cloud rapidly, and new cloud infrastructures require sophisticated cloud strategies that you can implement quickly. Unfortunately (sometimes tragically), security requirements are often overlooked due to the technical challenges and time constraints of cloud migration.
Security professionals must analyze real-time security data to respond to increasingly sophisticated and complex attacks and breaches. You can start your cloud migration seamlessly and securely with a robust new SIM solution. Find out-of-the-box cloud security monitoring content that facilitates threat detection and response across hybrid, cloud, and multi-cloud environments. You also need to include cloud attack detection rules and various cloud attacks.
Required Skills –
One of the problems with traditional SIEM is that it reduces the effectiveness of the entire Security Operations Center (SOC). Instead of issuing accurate, prioritized, and meaningful alerts, the IT team becomes full of noise, leading to alert fatigue. This is a state where everything looks like a priority and cannot be prioritized.
The right SIEM solution should be based on your business needs and whether you need an on-premises, cloud, or hybrid solution. There may be specific needs for threat intelligence, database or application monitoring, industry-specific content, and compliance reporting. Threat detection rules are also worth considering, depending on how often the rules are updated and how easy it is to customize. Companies with old operational capabilities can use security orchestration, automation and response (SOAR) capabilities and analytics, forensic / hunting, and the native endpoint, network, user, and entity behavioral analysis (UEBA) modules. Report/compliance is available.
People and Processes –
Replacing traditional SIEM represents a new challenge and a new opportunity for the team. If you need additional training, you can do it at the right time when the new SIEM is being built, and this gives the team complete control when the new SIEM is up and running.
In addition to your staff, consider the level of external and external support you may need from planning, product, and implementation perspective. Depending on your schedule and budget, building professional service infrastructure components and using in-house architecture and engineering can be more cost-effective than conducting parallel on-site training for new SIEM tools.
This is also the best time to evaluate the process. The tool of your choice may require you to redefine some of the processes involved in alerting, incident management, and drill-down analysis. You may also need to coordinate operations across vendors, not just the architecture and cloud implementation teams. Changing the process can be difficult, but the benefits are enormous. Risk-based alerts allow teams to focus on real threats and other essential tasks with fewer alerts and false positives. Also, with traditional SIEM, finding a way to optimize storage and keep your environment running at full functionality is time-consuming and resource-intensive. Replacing legacy SIEM in the cloud eliminates the need to manage your on-premises infrastructure and acts as computer security.
Planning and Design: How to Achieve It
Consider scalability and integration when evaluating and planning a new SIEM. Consider how much data you need each day and how many sources of data you have. Integration can be a significant challenge for companies' SIEM deployments. Therefore, consider other technologies that need to be integrated with new SIEM technologies, such as user authentication.
§ Enterprise Resource Planning (ERP) solutions, third-party vendors, big data platforms, or SOAR
§existing ticket and event management systems
§ Data Streaming Security Technologies
Finally, think about the cloud. Experts recommend designing SIEM to automate data ingestion between on-premises and cloud data sources as much as possible.
Mission
Most enterprise organizations face integration challenges when migrating to a new SIEM. When deploying a new system, you need to keep your existing system online, as you need to manage both SIMs for a seamless migration. Migration may require integrating multiple security technologies, the transformation of rule and use case migrations, and streaming data from parallel deployments (such as enterprise Syslog). The goal should be an invisible transition, a transition that does not risk visibility or detection.
Many of the new SIMS are customizable and automated when it comes to deployment options.
Organizations can combine tools, virtual appliances, and software to create feature stacks for flexible deployment and horizontal scalability. The new SIEM also allows you to customize existing rules and predefined reports. The new SIEM can also combine on-premises, cloud, and hybrid deployments to create cloud-based SIEM solutions beyond detection and feedback.
The Maximum SOAR Solution includes a playbook that provides best practices and procedural instructions. Playbooks ensure consistency, compliance, and faster and more reliable incident identification and remediation.
UEBA brings modern machine learning (ML) analytics to the security world. You can easily detect strange patterns of user behavior. Abnormal activity and potentially malicious actors are detected when the system is trained to recognize standard and typical usage patterns. UEBA Products can be seen as the latest evolution of traditional intrusion prevention and detection systems.
For more details about SIEM, visit https://en.wikipedia.org/wiki/Security_information_and_event_management.
Is Splunk the best SIEM?
Splunk is a technology used to search, monitor, visualize, and analyze machine data in real-time. This is a log management and analysis tool. Most people ask a frequently asked question: Is Splunk SIEM? Splunk is not SIEM, but it can be used for similar purposes. It is primarily used for log management and stores real-time data as events in the form of indexers. Useful for visualizing data in the form of dashboards
What is SIEM in security?
SIEM (Security Information and Event Management) is a security and monitoring system consisting of various monitoring and analysis components. The recent rise in cyber-attacks, coupled with the tightening of security regulations required by organizations, has made SIEM the standard security approach adopted by more and more organizations.