SOC as PaaS (Platform as a Service)
LTS Secure vSOCBox™ Platform


A Unified Platform for Enterprise Cyber Security.
The LTS Secure vSOCBox™ Platform

Stay Protected with a 24/7 SOC as PaaS that responds and scales as fast as you do.
LTS Secure's vSOCBox™ platform (SOC as PaaS) provides an integrated, comprehensive, and unified threat detection and response capability with concerted effort to cover all cyber security risks and enable a risk-free business.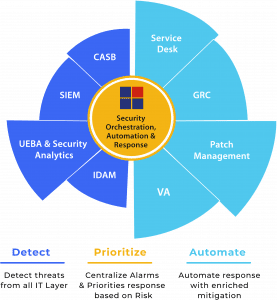 Why LTS Secure vSOCBox™ Platform?
Instant Access to Security Expertise
The LTS Secure vSOCBox™ Platform includes:
The acceptance of "SOC as PaaS" has been driven by-
Continuous visibility of Network, Application & Users needs established processes.
Security Solution alarms are delivered in non-integrated silos, increasing costs
The desire to get more value out of existing security investments.
Lack of skilled Security Resources increasing challenges to Setup SOC.
Need to expand security monitoring to include cloud, OT, and IoT devices.
The LTS Secure vSOCBox™ Platform Benefits:
Reduce business continuity risk
Reduce Threat response Time
Reduction in False Positives
LTS Secure "Amplify Partner Program" Value
Proposition for Partners
The LTS Secure's SOC Platform as a Service (SOC PaaS) platform, vSOC Box™, will help you to quickly launch your own scalable, automated, and highly cost effective SOC Operations. Leverage one of a kind SOC-platform as-a-Service (SOCPaaS) offering from LTS Secure and take a holistic approach in implementing innovative strategies that will provide a cohesive protection to your customers.
Security Incident Team 24 * 7
Updated Threat Intelligence
The best brands around the world secure with LTS Secure.
What's the new and now from the LTS Secure's Blogs & Articles.
Dig into a wealth of knowledge and insights in our webinars & events.
LTS Secure enables you to quickly investigate the security alerts that matter the most. Ready for Demo?