A Unified Platform for Enterprise Cyber Security.
Accustomed with SOC as a Service with LTS Secure
Stay Protected with a 24/7 SOC as PaaS that responds and scales as fast as you do.
LTS Secure's vSOCBox™ platform (SOC as PaaS) provides an integrated, comprehensive, and unified threat detection and response capability with a concerted effort to cover all cyber security risks and enable a risk-free business.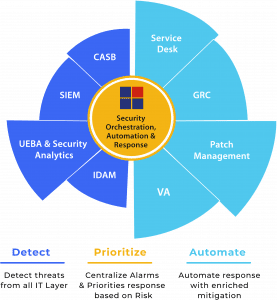 Cybersecurity breaches are no longer seasonal but climate-influenced. No matter the size or type of organization, a dedicated team should have the right skills and tools to identify flaws and defend against these cybersecurity breaches. LTS Secure strives to ensure customers are protected from digital and cyber threats while removing the pain of their CAPEX and OPEX investments. LTS Secure has constantly improved various companies' digital and cyber security postures through its world-class SOC services. SOC in cyber security is to monitor, prevent, detect, investigate, and respond to cyber threats 24/7.
What is SOC as a Service?
SOC as a Service (SOCaaS) is a subscription-based managed threat detection and response model that provides any organization with a best-in-class Security Operations Center. Social offers all the benefits of a dedicated 24/7 SOC. Without the prohibitive costs, complexity, and frustration of building, staffing, and managing a single company. A managed SOC service enables organizations to offload the people, processes, and advanced technology required to operate and manage a SOC externally and deliver it as a cloud-based service.
Organizations of all sizes need protection and expertise to monitor threats. SOC as a Service offers organizations an affordable way to get an end-to-end detection and response solution for today's SOC challenges. Today's advanced threat demands intelligent and automated
Cyber Security Solutions
.
What is SOC as a Service?
SOC-as-a-Service goes beyond what traditional Managed Security Service Providers (MSSPs) and Managed Detection and Response providers offer. Traditional MSSPs can offer advanced Security Operations Center (SOC) capabilities for threat detection and response.
SOC as-a-Service offers many benefits, including:
Faster Detection and Remediation
SOC-as-a-Service providers reduce the burden on internal security teams. We monitor your security 24/7, use automation and data science to accelerate detection, and deliver trusted alerts. Higher confidence indicators mean quicker and more efficient detection and remediation.
Working with a SOC-as-a-Service provider reduces the risk of compromise and the potential cost and brand damage associated with a successful attack.
Increase Business Agility and Scalability
Between IoT and remote work, acquisitions, and service expansion, businesses are growing and changing faster than ever. SOC as a service supports fast growth by enabling organizations to modify and scale their outsourced SOC consumption as needed to meet their priorities.
Organizations pay SOC as a Service monthly operating expense based solely on usage. For most companies, this is cheaper than the capital and operational costs of setting up and staffing an on-premises SOC.
Why Should I Choose SOC as a Service Instead of Building My Own?
It is an important decision. An effective SOC is the most important security element for an enterprise, operating 24×7 to detect and prevent threats before they harm and respond quickly when attacks bypass security controls.

There are several important considerations when deciding whether to run your own on-premises SOC or work with an enterprise SOC-as-a-Service provider.
Why LTS Secure vSOCBox™ Platform?
Instant Access to Security Expertise
The LTS Secure vSOCBox™ Platform includes:
The acceptance of "SOC as PaaS" has been driven by-
Continuous visibility of Network, Application & Users needs established processes.
Security Solution alarms are delivered in non-integrated silos, increasing costs
The desire to get more value out of existing security investments.
Lack of skilled Security Resources increasing challenges to Setup SOC.
Need to expand security monitoring to include cloud, OT, and IoT devices.
The LTS Secure vSOCBox™ Platform Benefits:
Reduce business continuity risk
Reduce Threat response Time
Reduction in False Positives
LTS Secure "Amplify Partner Program" Value
Proposition for Partners
The LTS Secure's SOC Platform as a Service (SOC PaaS) platform, vSOC Box™, will help you to quickly launch your own scalable, automated, and highly cost effective SOC Operations. Leverage one of a kind SOC-platform as-a-Service (SOCPaaS) offering from LTS Secure and take a holistic approach in implementing innovative strategies that will provide a cohesive protection to your customers.
Security Incident Team 24 * 7
Updated Threat Intelligence
The best brands around the world secure with LTS Secure.
What's the new and now from the LTS Secure's Blogs & Articles.
Dig into a wealth of knowledge and insights in our webinars & events.
LTS Secure enables you to quickly investigate the security alerts that matter the most. Ready for Demo?